Wolverine Cotton Hooded Bathrobe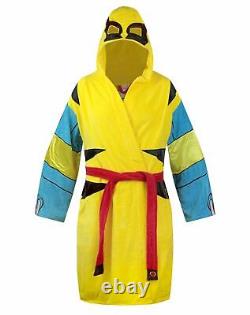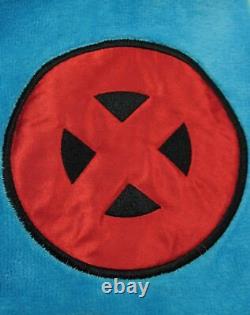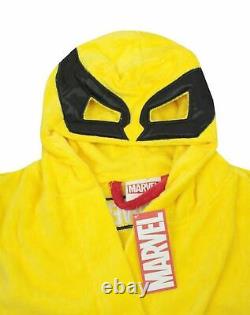 Keep cosy in style with this awesome Marvel Wolverine bathrobe, an officially licensed and quality piece this bathrobe is a cool Marvel piece. This bathrobe is made with a soft to touch bathrobe material, the design follows the classic Wolverine costume look with vivid colouring and cool detail. This robe has a thick collar style, red tie belt side pockets and mask hood! This awesome robe also features a number of cool details, the robe is inspired by the iconic X-Men Wolverine comic book costume, with blue and black sleeves and red X-Men patch. This Wolverine bathrobe has a hood that also doubles a super cool mask, making sure you can channel those Wolverine vibes in style.
Made with 100% cotton this Wolverine bathrobe offers a one size fit. Dark liquids will damage your clothes. Welcome to Vanilla Underground, an online shopping experience dedicated to fans of movies, music, TV, art, gaming and comic books, looking for the latest fashion in t-shirts, hoodies, vests, sweaters, dresses, accessories, toys and gifts for men, women and kids.
At Vanilla Underground, we understand the fans, because we are the fans! This is more than just pop culture to us, this is a lifestyle, a religion, an identity. We understand that you're making a statement to the world when you're wearing your favourite Guns N Roses t-shirt, Rolling Stones vest or an AC/DC sweater. We know that you are proud to wear a Batman t-shirt or a Superman hoodie, thrilled to display the latest Game of Thrones or Walking Dead Funko figure, or over the moon to wear a Big Bang Theory hoodie or Breaking Bad t-shirt, so why not let us help you show off your pride in style?
Our list of brands is ever-growing, and we are proud of everyone that we work with. The friendly and dedicated team here at Vanilla Underground work hard to make sure you get the best quality and unrivalled service all the time, every time. We're always here to help, there's no sales jargon or corporate nonsense, just real people with real answers hoping to put a smile on your face and a t-shirt on your back! It needs to be unworn, unwashed and in a loved-up condition, ready for rehoming. Any items that are packaged in sealed packaging/with cellophane wrapping are non-returnable once opened.

---